Ridgeback
Ridgeback is a midsize indoor robot platform that uses an omni-drive to move manipulators and heavy payloads with ease. The omnidirectional base provides precision positioning in constrained environments and comes fully integrated with onboard computer, front and optional rear laser scanners and an IMU. Ridgeback offers native ROS and Gazebo integration and is plug-and-play compatible with Clearpath's wide range of robot accessories.
Ridgeback is designed with omnidirectional Mecanum wheels paired with a precision drive and high resolution encoders (35840 pulses per revolution) to enable exact position control within 3 degrees of maneuverability.
UNCONSTRAINED DEVELOPMENT
Ridgeback's versatility enables unconstrained path and algorithm planning. Ridgeback can even simulate a more limited platform by not using its side-to-side capabilities.
The integrated LIDAR and top plate is designed for an unobstructed 360-degree LIDAR field of view (rear-mounted LIDAR required). This allows Ridgeback to operate autonomously, avoid collisions and plan paths that take full advantage of the maneuverability offered by its omnidrive base.
Ridgeback is only 11in (30cm) tall and fits through a standard 32in (80cm) door. This allows Ridgeback to operate effectively in typical industrial and commercial environments without issue. It also has a passive suspension system to ensure reliable traction over floor transitions or changes in terrain (ie. concrete to carpet).
As with all Clearpath robots, Ridgeback is plug-and-play compatible with our extensive list of robot accessories. Prototyping an industrial or commercial mobile robot has never been easier.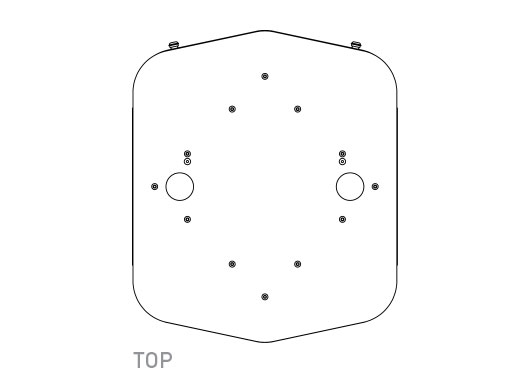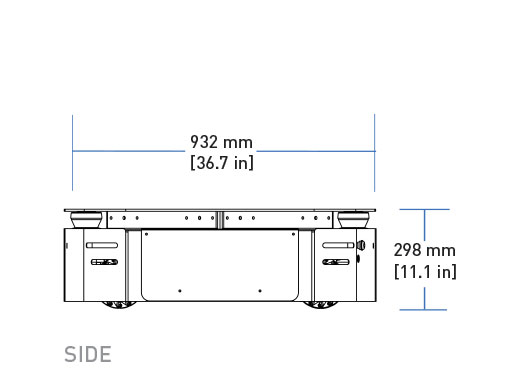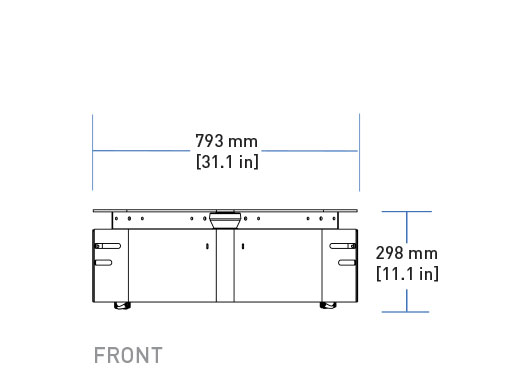 External Dimensions
960 x 793 x 296 mm
(37.7 x 31.1 x 11.6 in)
Weight
135 kg
(275.6 lbs)
Max Payload
100 kg
(220 lbs)
| | |
| --- | --- |
| Max Speed | |
| Obstacle Clearance | |
| Drivers and APIs | |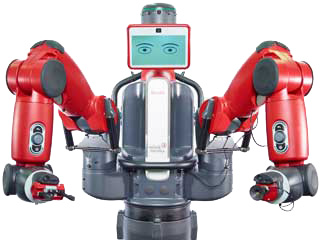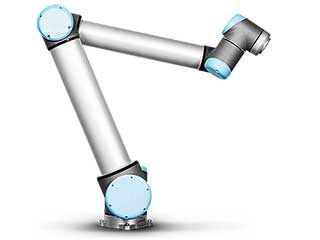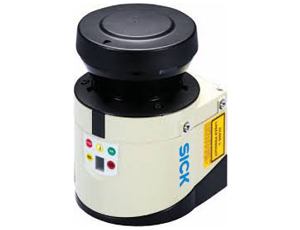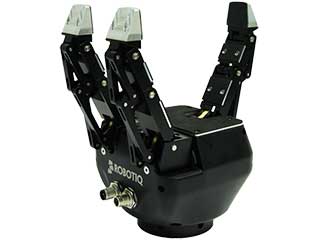 Packages
The preconfigured packages offer everything needed to get started quickly. Don't see what you're looking for? Visit our full Accessories List.
Baxter Package

The Baxter Package includes an adjustable podium mount, power system tie-ins and communication for Baxter, enabling the robot to be integrated in under 30 minutes. Easily coordinate behaviours between Ridgeback and Baxter with ROS support and a software URDF which defines sensor positions.

Example Applications

Included Accessories

Featured Upgrades
UR5 Package

The UR5 Package includes mechanical mounting, integrated UR5 controller, power and communications for the Universal Robotics UR5 robot arm. It also includes a Robotiq 3-Finger gripper and a force torque sensor. Easily coordinate behaviours between Ridgeback and UR5 with full ROS, Gazebo Physics Simulator, RViz and MoveIT! Motion planner support.

Example Applications

INCLUDED ACCESSORIES

FEATURED UPGRADES
Gallery
See our robots work in the most demanding environments by researchers all over the globe.