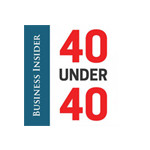 "Matt Rendall, Ryan Gariepy, and Bryan Webb will create a job force of robots to do hazardous tasks."
Press Releases
CLEARPATH ROBOTICS WINS PRODUCT INNOVATION AWARD
Clearpath Robotics is recognized by IEEE Robotics and Automation Society (RAS) for Jackal mobile robot.
Read More
Robotics Business Review names top 50 companies to watch in 2016 (Kitchener, ON, Canada – February 16, 2016) Robotics Business Review (RBR) has unveiled its fifth annual RBR50 list, naming Clearpath Robotics as one of the most noteworthy companies in the global... read more
Clearpath Robotics' Chief Executive Officer, Matt Rendall, has been selected to join the Board of Directors for Robotic Industries Association (RIA) as one of four at-Large Directors.
read more
(Kitchener, ON, Canada – November 27, 2014) Clearpath Robotics co-founders were presented with the University of Waterloo (UW) 2015 Faculty of Engineering Team Alumni Achievement Medal yesterday evening at the Waterloo Inn and Conference Centre. Partners, Matt Rendall, Ryan Gariepy, Bryan Webb and Pat Martinson established the Company during their tenure as undergraduate students in the Mechatronics Program.
read more
Canadian robotics manufacturer releases new warehouse robot with GE Ventures as strategic investor and GE as first customer. (Kitchener, ON, Canada – September 23, 2015) Clearpath Robotics, a global leader in field and service robotics, today announced its first... read more
(Kitchener, ON, Canada – July 29, 2015) Clearpath Robotics is proud to welcome Mike Hanuschik as their new Chief Product Officer. Hanuschik will lead product strategy, product management, design and branding for Clearpath.
read more
Awards
Explore our award collection below.